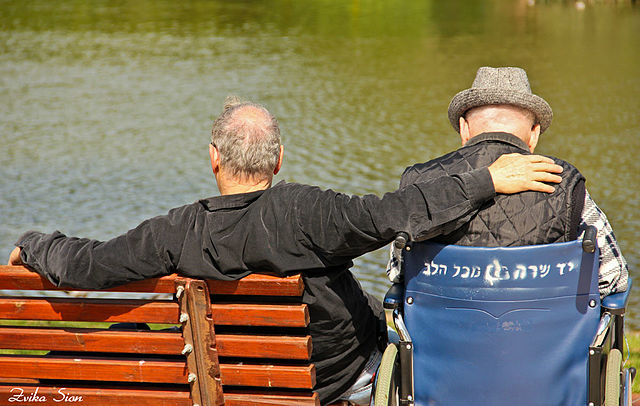 Bron: wikimedia commons

Ze zitten vlak voor me in het restaurant. Vier vrouwen en drie mannen. Ze kennen elkaar, zo lijkt het, niet al te goed, want ze reageren bescheiden lachend en ietwat afstandelijk op elkaar. Dan trekt iemand zijn smartphone voor een foto. Onmiddellijk veranderen de disgenoten van houding. Zo gereserveerd als ze eerst waren, voor de foto leunen ze intiem tegen elkaar, de armen over elkaars schouders. Als het plaatje gemaakt is, keert iedereen terug naar zijn oorspronkelijke positie alsof er niets gebeurd is. Geen enkele keer raakt iemand de ander meer aan. Er wordt slechts beleefd gelachen en geconverseerd.
Je kunt niet zonder aanrakingen. Zelfs die onverschillig ogende gabber niet.
Baby's stoppen met groeien als ze niet worden geknuffeld en kinderen groeien op tot gevoelsarme volwassenen bij het uitblijven van een welgemeende aai over de bol. Ook als volwassene ervaar je minder stress als je van tijd tot tijd aangenaam gekoesterd wordt. En wist je dat personen die aanraken doorgaans aardiger worden gevonden dan zij die dat niet doen?
Niet voor niets is de huid het eerste zintuig dat zich ontwikkelt bij een foetus. Bovendien is het ons grootste zintuig.
Al in de baarmoeder kun je via je huid voelen en op latere leeftijd, als gehoor en zicht allang is afgenomen, functioneert het tastorgaan nog prima.
Hoe belangrijk aanraken ook is, toch raken we elkaar niet zomaar aan. Aangeraakt worden door iemand die je niet aardig vindt, is namelijk uitermate onplezierig. Het wordt al snel in verband gebracht met machtsmisbruik en seksualiteit. Voor aanraken zijn er dan ook allerlei ongeschreven regels over wanneer je wel en niet mag aanraken en op welke plekken. Ze gaan over hoe goed je iemand kent, hoe intiem je met iemand bent, welke machtsverhouding er tussen jullie is, maar -zoals we in het voorbeeld hierboven hebben gezien- ook over de situatie waarin je je bevindt.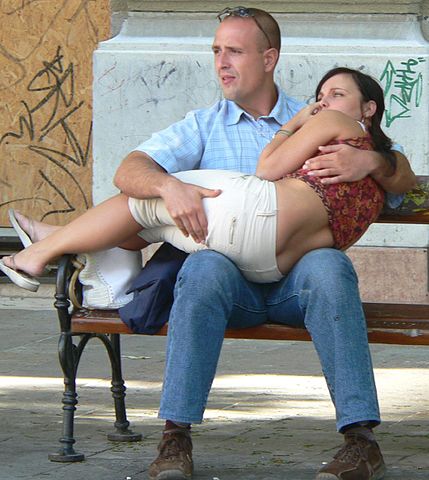 Bron: Wikimedia commons. Foto: Matthew Hunt

Hoe weet je nu of je iemand aan kunt raken, welke aaibaarheidsfactor hij of zij heeft? Dat kun je aan de lichaamstaal van iemand zien.
Houding, beweging, gelaatsuitdrukking…alles 'zegt' dat je dichterbij mag komen.
De ander buigt bijvoorbeeld iets naar je toe en kijkt je aan. Deze signalen pik jij op en voel je aan. Je kunt daarbij best op je antenne vertrouwen, want deze voorkomt in de meeste gevallen dat je 'missers' maakt.
Twijfel je? Dan is de kans groot dat iemand je non-verbaal heeft laten weten geen prijs te stellen op een aanraking. Zolang je dat respecteert en aanraakt op neutrale plaatsen als arm en schouder, kun je je geen buil vallen. En weet je wat nu zo leuk is? Vaak raak je iemand dan niet alleen letterlijk, maar ook en misschien wel vooral figuurlijk!
Volgende keer ga ik het hebben over aanmoedigen… En nee, dat gaat niet over blèrende ouders aan de rand van een voetbalveld.
Categories: None